Onion food natural powder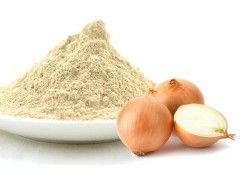 Onion Powder is produced using innovative technology of vortex drying (at extremely low temperatures), which allows to preserve all the useful properties and the original taste of the fresh product.
Onion powder - spice, which is actively used in cooking. In the kitchen, it is commonly used as a flavoring additive in a variety of soups and sauces, gravies and minced meat.
Onion powder is a part of many mixtures and is widely used in the food industry, for example, perfectly complements sausages and meat products.
Only domestic raw materials are Used!