Beetroot natural food powder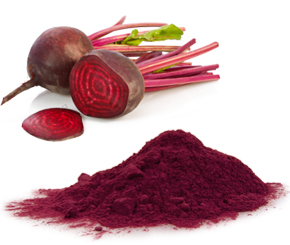 beet Powder is produced using innovative vortex drying technology (at extremely low temperatures), which allows to preserve all the useful properties and the original taste of the fresh product.
in the food industry, beet powder is traditionally used in the following industries:
production of yoghurts, baby food products (mixtures, cereals), improving their taste and nutritional qualities.
it is a part of soups and instant porridge, enriching them with useful additives.
In the production of sausages, the beet powder is used to make the products are fresh, appetizing appearance.
in the confectionery industry beet powder is used in the manufacture of creams and impregnations. The cream acquires a delicate pink hue, thanks to the ability of beet powder to color the product in which it dissolves.
the Mineral composition of beet roots is very rich: proteins, carbohydrates, amino acids, pectin substances, b vitamins, C, E, P, U, folic acid, carotenoids, minerals: potassium, sodium, magnesium, phosphorus, iron, iodine, etc.
Only domestic raw materials are Used!